---
How to make oregano oil?
Step #1: Get all the Ingredients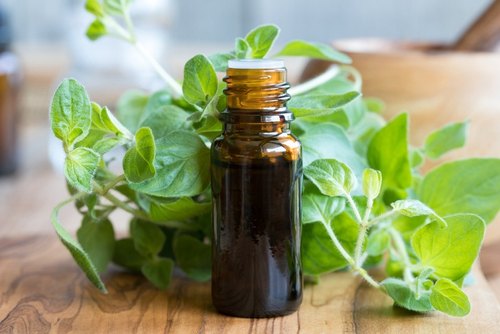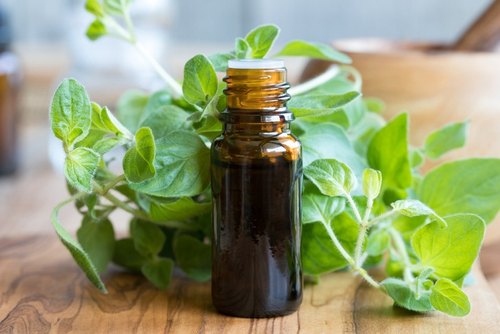 Step #2: Mushing
Wash the oregano leaves and pat them dry. Remove the leaves from the stem and add them to the glass container, little by little. Add more as the leaves get mushed with the muddler. Mushing bursts the cells, making the leaves release their oils.
Step #3: Add the oil
Warm up the organic olive oil by placing the bottle in a pot of hot water. Warm oil helps the infusion. Stir the oil and leaves mixture.
Step #4: Wait
Put the lid on the jar and let it infuse for about two weeks. It needs to be kept in a cool place where it doesn't get much sunlight. Shake it every couple of days, until the liquid turns dark.
Step #5: Use
When it is ready, use a cheesecloth to stain the leaves. Keep the oregano oil in a glass jar in the refrigerator and use when needed.
How to Use Oregano Oil
Medicinal use
Most people take oregano oil as an herbal supplement, in soft gel capsules (which are a good option for those who don't like its flavor) or liquid. It is important to see the recommended dosage established by the manufacturer, since the strength varies between products.
Oregano oil is anti-inflammatory and is full of antioxidants, offering immunity support. It keeps your immune system strong because of its antiviral properties, preventing the common cold, measles, and pox. It can also stop the reproduction of cancer cells, it promotes apoptosis (that is, the suicide of cancer cells) in patients with breast, lung and liver cancer.
Candida, which causes yeast infection, can be treated with oregano oil according to test tube studies. It also improves your gut health, treating symptoms such as diarrhea, pain and bloating, which are caused by parasites. Leaky gut, when the gut is damaged and it allows bacteria and toxins to pass to the bloodstream, can also be treated with this oil. It has to be taken for six weeks, 200 mg per day.
Consume the oil for its powerful antioxidant properties, which are an effective anti-aging treatment. It works to neutralize free radicals and repairs damages done to the body. This herb has four time the antioxidants as blueberries. Carvacrol, the main compound in oregano oil, has been shown to lower cholesterol.
Some poultry farmers use oregano oil instead of commercial antibiotics to keep their flock healthy. It is considered a safe, natural alternative to drugs.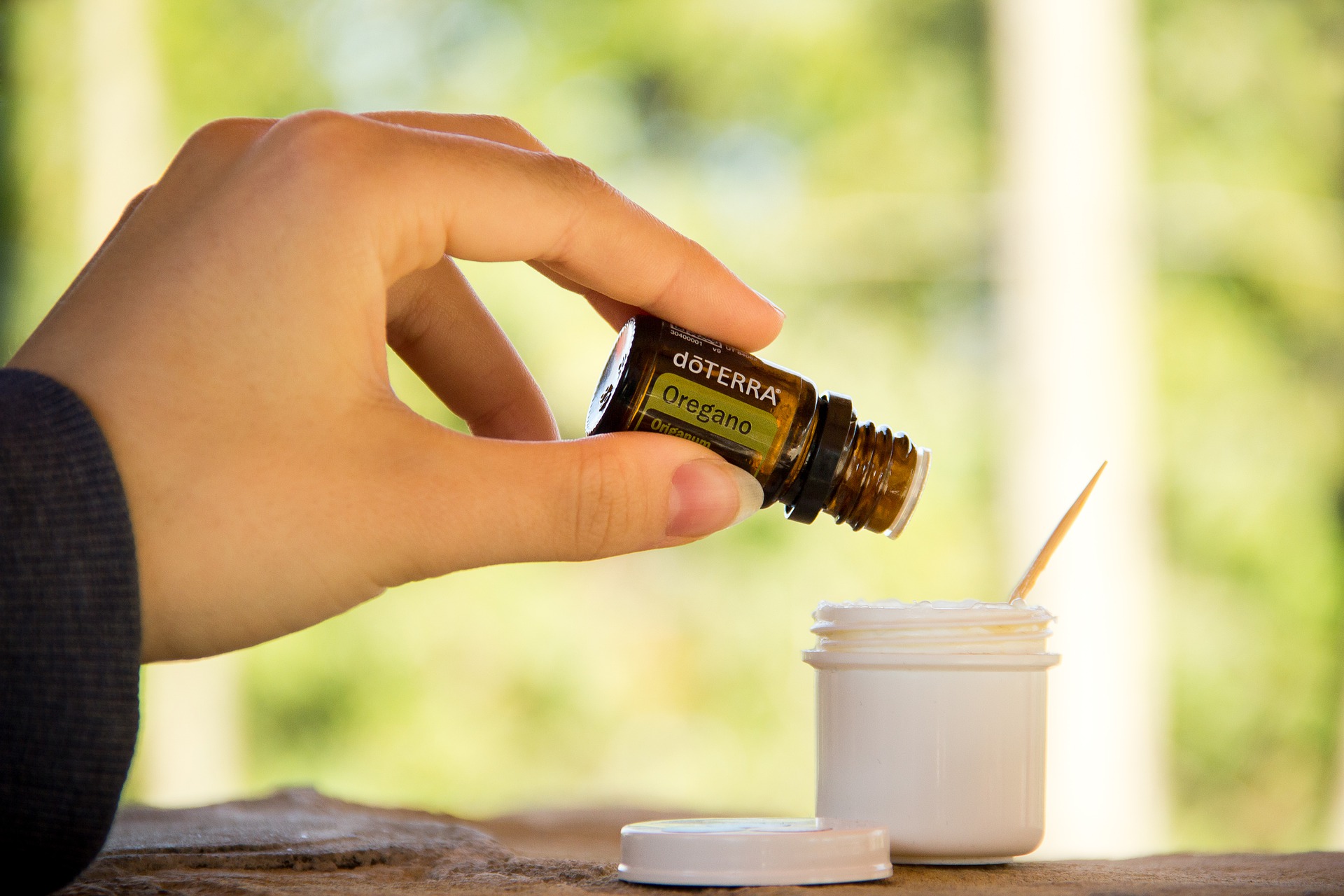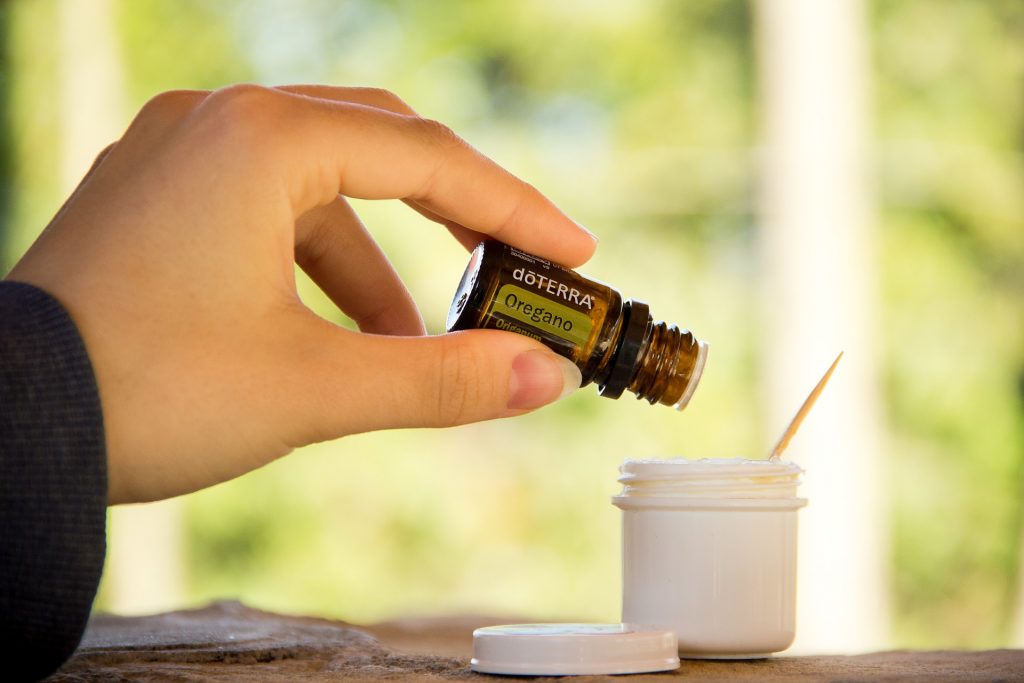 Topical use
Oregano can be used topically as an antimicrobial agent. Mix a few drops of oregano oil with olive oil or coconut oil to heal fungal infections or cuts. Capsules can be applied directly to the skin since they have another ingredient to dilute the oregano oil. It can be used to treat acne by dipping a Q-tip into the oil and applying it directly. Oregano soaps are also a good option to treat skin conditions. It is also helpful in treating bug bites and poison ivy.
Out of all aromatic plants, oregano has the highest antibacterial property because of its phenol (thymol and carvacrol). This is why it is useful for a variety of conditions including psoriasis, eczema and mycosis (fungus). Treat nail or foot fungus by adding it to water and soaking your feet. Those with rheumatic problems should create a poultice (moist soft mass of plant which is applied to the body) by using 1 cup linseed, 300 ml (10 fl oz) boiling water and 10 drops oregano oil.
It can also be applied to gums in an ancient Ayurvedic technique called oil pulling. Take a tablespoon of antimicrobial oil, such as coconut oil, and swish in your mouth for 20 minutes. You can add a drop of oregano. This whitens teeth, reduces headaches and creates a stronger oral health. Oregano oil can also be used topically to treat menstrual pain.
After a work out, dilute a few drops of oregano oil with your body lotion to relieve sore muscles. It can be used for arthritis as well.
Cleaning
Here are four ways to use oregano oil for cleaning purposes:
Mix ten drops of oregano oil with two tablespoons of coconut oil to create your own hand sanitizer.
Place a few drops in your dish soap or soapy cleaning products.
According to Mercola's website, you can combine four drops of oregano oil, 10 drops of lemon oil and a quarter-cup of white vinegar. Place this mixture in a bucket of water and use it to clean surfaces. It can also be applied directly on a cloth with water.
Include it in your washing cycle, kills bacteria and gives fabric a fresh smell.
Aromatherapy
Place one or two drops of oil into a diffuser. Make sure you are using pure oregano essential oil by checking the label for the plant's Latin name, Origanum vulgare. If there is any other oil, it means it has been diluted and should not be used in a diffuser. Store your essential oils out of direct sunlight.
It can be used to treat respiratory problems, acting as an expectorant. It can also soothe sore throats, surprising coughing fits. Since it has calming and relaxing effects, it is a good sleeping aid. Oregano is also a stimulant known to boost circulation and ease fatigue. Those who suffer from allergies can use it, since it reduces bodily reactions to allergens and airborne pollutants, such as pollen and mold.
Do not use this essential oil for baths since it has a high risk of causing irritation.
Risks of Using Oregano Oil
Oregano oil is very potent, so be sure to use it in the appropriate dosage. It can burn your lips or even internal tissue when taken orally without diluting it or in a large dosage. Consulting with a physician or aromatherapist is the best option. Very low dosage should be used for maintenance, perhaps one or two drops per day, while you should take three to five drops if you are fighting an illness. People who are allergic to plants in the Lamiaceae family should not use this oil.
Use of this oil is not recommended during pregnancy, as there are concerns about miscarriage. It should not be used during breastfeeding or on infants. People with diabetes should use it with caution since it can decrease blood sugar. It can also increase the risk of bleeding, which is why it should not be used two weeks prior to surgery or on people with bleeding disorders.
This oil can interfere with some medications such a lithium, diuretics, antidiabetic drugs and anticoagulants. It might decrease absorption of copper, iron and zinc.
---