Benefits of Chamomile Tea
Reduces Anxiety
Most people consume this tea of chamomile because of its calming properties, which reduce stress and anxiety. Chamomile increases melatonin and serotonin, two hormones that alleviate stress. This tea opens up the blood vessels and reduces inflammation, which cause headaches and intense pain if left untreated. It can also be used to alleviate menstrual cramps and muscular spasms.
Dosage: drink one or two cups daily.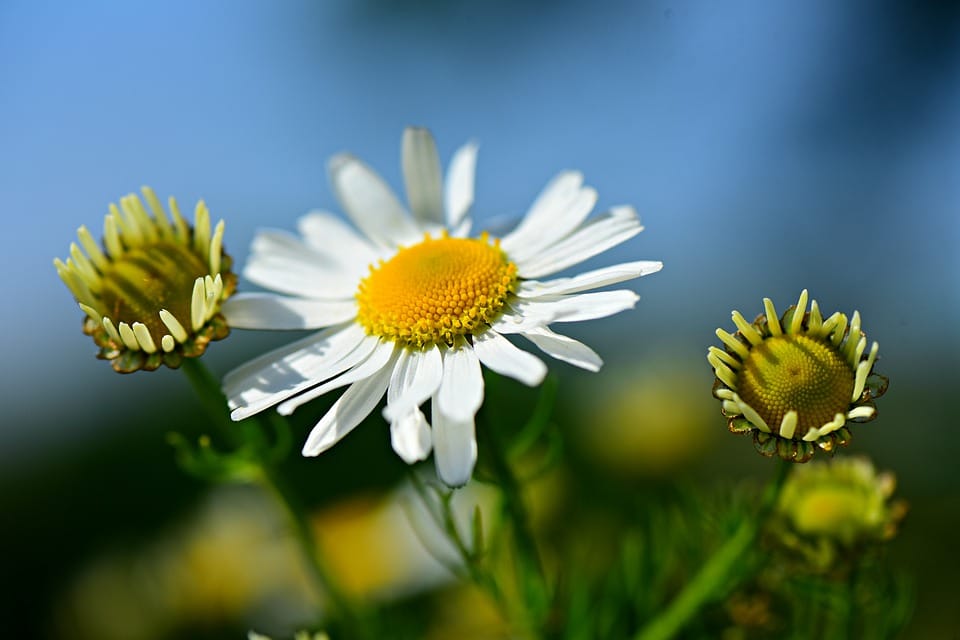 Improves Sleep
Chamomile tea helps people sleep faster and obtain a more restful repose because of an antioxidant called apigenin which binds to certain receptors in the brain which lower anxiety causing sleep. It is used by people who have sleep disorders such as sleep apnea and insomnia. It is important to note that this tea does not contain caffeine. This is a short term treatment, not a long term approach to improving sleep (unless you suffer from depression). Sleeping better can help your overall health. Warm liquids, in general, raise your body temperature making you sleepy.
Dosage: drink a cup before going to bed.
Aids Digestion
People who suffer problem digestive tract problems such as upset stomach, indigestion, abdominal pain or gas and irritable bowel syndrome will benefit from this tea. Its anti-inflammatory properties and antispasmodic benefits help prevent diarrhea. It can be used long term to help regulate the digestive system. Chamomile's compounds and antioxidants reduce acid output and decrease leukotrienes, which cause ulcers. Peppermint leaves and licorice root also offer the same benefit.
Dosage: consume one cup 30 minutes before each meal.
Boosts Immune System
Chamomile tea helps prevent the common cold and fight the flu. Its anti-bacterial properties work to defeat bacteria and viruses. Chamomile's aromatic scent clears congested sinuses (chamomile essential oil can also be used in a diffuser), while its soothing properties alleviate sore throat symptoms. Studies show that it can also help to inhibit cancer cell growth and improve mental health.
Dosage: five cups per day.
Healthier Heart
Flavonoids found in chamomile tea reduce the incident of cardiovascular disease. Chamomile can lower blood pressure, by reducing stress which relaxes blood vessels and arteries. It also lowers triglycerides and bad cholesterol (LDL cholesterol).
Dosage: three cups per day.
Lower Blood Sugar
This herb moderates blood sugar levels, lowers levels of serum insulin and insulin resistance related to diabetes. Chamomile contains an antioxidant called quercetin, impacting certain enzymes which are part of the diabetic response. Its anti-inflammatory properties may help to prevent damage to pancreas cells, which produce insulin, the hormone responsible for removing sugar from in blood.
Dosage: three cups per day.
Uses of Chamomile Tea
Skin Health
Chamomile Tea can help numerous skin conditions. Most people use it in baths to treat itchy, scaly skin. Its antioxidant and anti-inflammatory properties can help with skin irritations like rosacea and eczema. Polyphenols eliminate free radicals which cause premature aging. These polyphenols work in conjunction with phytochemical to minimize wrinkles, accelerate tissue regeneration and tighten pores. This tea can be used to fade spots, eliminate acne scars and fight breakouts if placed topically on the skin. For this matter it is best to use the dried chamomile flowers instead of the tea bags. Place a washcloth in the tea and then place it over your face for 10-15 minutes.
Treat Sunburns
Brew this tea and chill it in the refrigerator; soak the liquid in a towel and apply to the sunburned area. Its soothing, antioxidant and anti-inflammatory properties help to alleviate this condition.
Reduce Under-Eye Dark Circles
Those who buy chamomile tea bags should save their bags and chill them in the refrigerator. Then place them over eyes to lighten the area and reduce puffiness. The difference is noticeable immediately.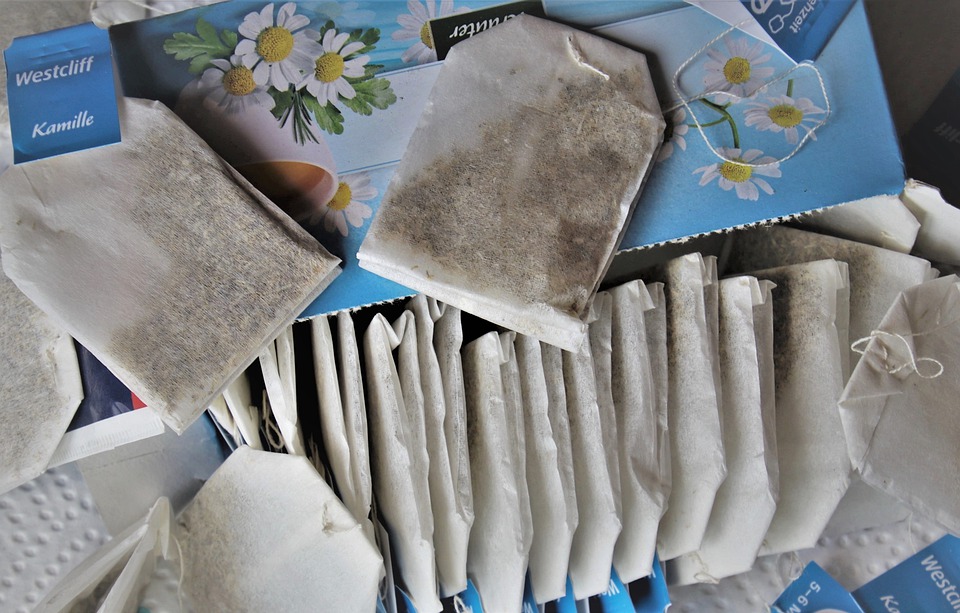 Hair Care
Chamomile is commonly found in hair products because it is a natural hair lightener. You can buy a chamomile shampoo which includes the herb or simply put brewed tea on your scalp. Rinse your hair with cold chamomile tea in the shower. It will give you healthier, shinier hair. Those with itchy and dry scalp, which can cause dandruff, will benefit from chamomile's anti-inflammatory compounds.
Mouth Rinse
This herb has anti-inflammatory properties which can sooth irritated gums, canker sores or mouth ulcers. Just brew a cup and rinse in your mouth.
Anti-Itch Treatment for Bug Bites
Chamomile's anti-inflammatory properties can calm the itchy bug bites, by neutralizing allergies and regenerating your skin.
Garden Pest Control
Brew chamomile tea at triple or quadruple strength, allowing it to steep overnight. Use it the next day as a herbicide and aid against mildew. Pests don't like the flower's strong scent.
Chamomile Tea Warnings
Drinking chamomile tea is generally safe for most people. Those allergic to flowers in the daisy family, including marigolds, ragweed and chrysanthemums should not drink it. It may also contain pollen from other plants.
Pregnant women should not consume chamomile since the safety is unknown. Doctors recommend young children and infants to avoid chamomile products and honey since they might be contaminated by botulism spores. Courmarin in chamomile is a blood thinner, so it is best to avoid it two weeks before surgery.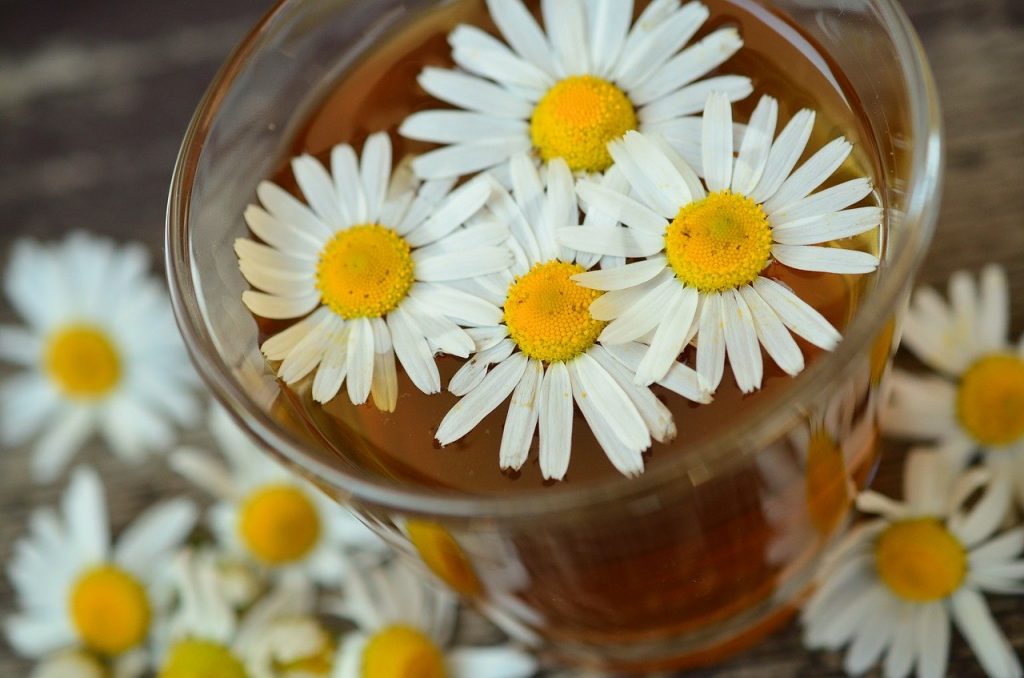 How to Make Chamomile Tea
There are two main types of chamomile: Anthemis nobilis (Roman chamomile) and Matricaria chamomilla (German chamomile). Egyptian chamomile is German chamomile grown in Egypt where they have been using this plant since ancient times. Roman chamomile is sweeter and fruitier, while German chamomile tends to have a more robust, almost pungent scent.
Step #1: Flowers
Most people use dried chamomile flowers which are more potent. You can use one or two table spoons of dried flowers per every eight ounces of water. If you are using fresh flowers, then just double the amount.
Step #2: Water
Boil water to 200 F (93 C) before adding it to the leaves or the chamomile tea bag.
Step #3: Steep
You can steep your tea for five minutes to get maximum health benefits. Try to cover the tea while steeping, since many of its active compounds may be lost in the steam. Petals or tea bag can be infused one to three times.
Step #4: Enjoy!
Some people prefer to include other ingredients such as honey, slice of apple, cinnamon or lemon.
Learn How to Grow your Own Chamomile